All good wines need to breath. That's what we all hear but what does it really mean?
The Allure Cabernet glasses and decanter set is in stock here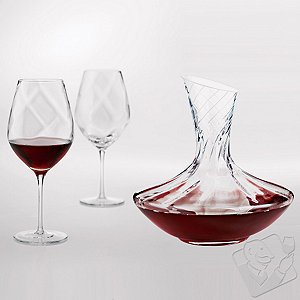 When a bottle of cabernet is first opened it goes through a form of stress. Wines, especially cabernet sauvignon and bordeaux blends, are not static products, they are alive and  change their nature over time. Inside a sealed bottle the wine is protected from air that causes oxidation and spoilage if left exposed for a period of time.
However, some oxidation just after opening a new bottle and prior to drinking is essential in order to bring out the flavors of the wine. In this situation oxidation is good and to achieve that you should use a decanter.
As you pour wine into a decanter you expose all the wine to air which helps it to "breath". The Allure decanter and glasses assist this breathing exercise by incorporating subtle ripples into the cabernet glasses and decanter, so that when pouring and swirling wine in the cabernet glass extra exposure is ensured, thus releasing more of the wine flavors.

Allure cabernet glasses and decanter dimensions & shipping details
The Allure cabernet glasses and decanter set is made in Europe of lead-free crystal, and is mouth-blown. Such a beautiful set would make a great gift for wine enthusiasts and especially those who enjoy cabernet and bordeaux blends.